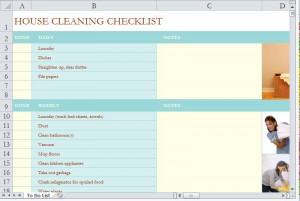 Home is where the heart is, but it's not so heartwarming when you come home and your house is a mess. Most people shy away from truly enjoying the house cleaning process. This is most likely because they have no plan and just dive in, a sure-fire way to cause frustration. One solution to this problem is by using a house cleaning checklist. This downloadable cleaning house checklist is free and fully customizable in Excel.
This easy to use printable house cleaning checklist is a great way to keep your house clean and have fun at the same time. Psychologically, the feeling one gets after checking an item off of a too do list is one of great satisfaction.
One of the best features of the template is the way it's broken down into daily, weekly, monthly, and seasonally sections. You can group tasks under each of these sections and insure that your house cleaning progresses smoothly throughout the year. It takes the guess work out of your cleaning schedule, which ultimately saves time.
It's also fully customizable so you can add sections like the garage or even set up more sections for other quadrants of your home. There's even a notes section for you to jot down notes beside each task.
How to Use the Printable House Cleaning Checklist
The first thing is to make sure that you include all the cleaning tasks for each section. Make sure you place each task under the correct section. Daily items might include washing dishes or filing important paperwork.
Next, you may want to add fields specific to your own unique house cleaning needs. For example, if you have an attic or a den, you would want to add these areas to the template. You might also want to assign sections of your home their own spot on the cleaning house checklist.
Finally, make sure that you utilize the note section on the template to record any issues you have during the clean or things you'll need in the future to make the cleaning process run more smoothly.
Tips for Using the House Cleaning Excel Template
To make the template more enjoyable to use, try adding photos of the people responsible for each task. If it's little Johnny's night to wash the dishes, place a thumbnail image of him next to the task.
Try to use the notes section to write specifics on how the area in question should be cleaned. For example, if you want to make sure the bathroom smells extra nice, write a little note in the section that tells the person cleaning it to use the air freshener under the sink when done.
Finally, you can print out the template, place it in a sheet protector and write on it using a dry erase marker and reuse it indefinitely. Or, you can use it to keep multiple copies of the template.
Your home is your castle, don't let it get dusty. Keep it clean and keep your sanity by downloading the free, easy to use and customizable Excel house cleaning checklist today!
Download the House Cleaning Checklist from Microsoft Office: House Cleaning Checklist
X
Your free template will download in
5 seconds
.
Check out this offer while you wait!