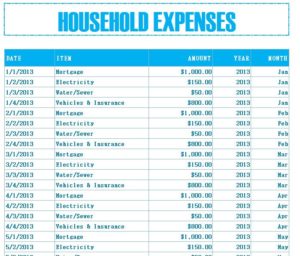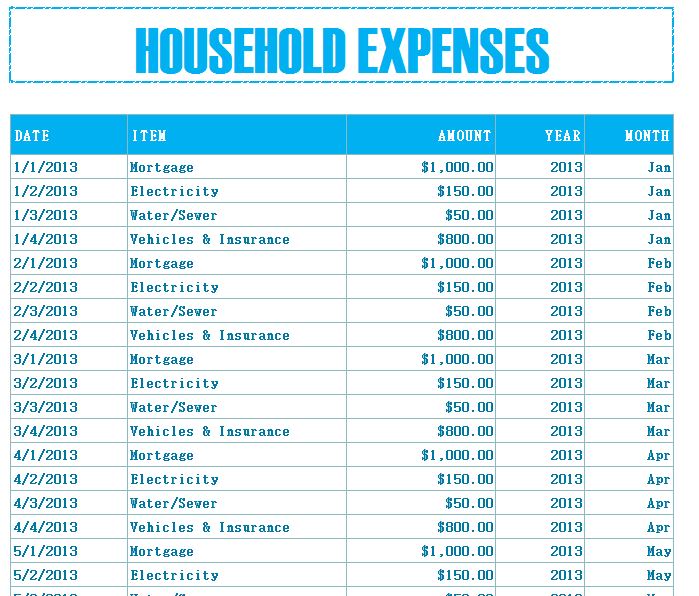 Saving for your family's future has become more necessary than ever. Whenever an economic downturn is likely to arise, the smartest thing to do is save. It's even better if you start saving early. The Household Budget Expenses is one of the best tools to create your own personalized budget report from month-to-month. You will quickly go from entering simple information to receiving useful calculations that illustrate where your money is going in a larger scale. Spending money here and there is common, but it's hard to keep track of excess spending, that why this template is so useful, it shows you what you can easily cut back on to save. Download this template for free by reading the instructions below.
How to Use the Household Budget Expenses
The first thing you'll want to do is click the link at the bottom of this page to download the free template file to your computer.
After that, open the document and begin entering your expenses for the month (as they come) in the tables of the "Household Expenses" tab.
There are 4 columns in which to enter information. There are also examples to show you where your items should go. Start by entering the date, the item (as many as you want or need), the cost for that item, the year, and the month.
You can see that the examples list some common bills (electricity, gas, etc.). However, you can change these to anything you need. Simply click the cell and type something new instead.
Continue through the list as you go through the month and the Household Budget will calculate all the totals and provide you with a detailed report in the "Expense Summary" tab.
By using this template, you will be able to see where your money goes and how you can use these trends to adjust your monthly spending to pay off any debt and finally start saving.
Download: Household Budget Expenses
X
Your free template will download in
5 seconds
.
Check out this offer while you wait!