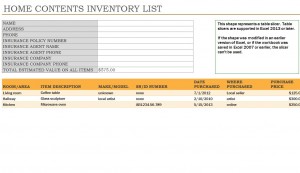 If you have ever had to make a claim on your homeowners insurance for the loss off goods during a flood or other catastrophe, or even a break in, you will know how important it is to have a household inventory of your items. The problem isn't not realizing that you need it, the problem is figuring out how to pull all of that information together. Well, now help is available. There are many reasons that you should consider this template.
Using the Customizable Household Inventory Template
You can get your Household Inventory template for free. This great tool is available to you at no cost. It will give you a starting point of what to list and how to list your items. Who can pass up free help?
This template is customizable. You can easily adjust it to fit your needs. It is just a starting point. Then you take it and add or delete any of the information that doesn't pertain to your particular situation.
The Household Inventory Template is Easy to Use and Downloadable
This Household Inventory Template is so easy to use that you will be amazed. It is very self explanatory. You will not have to order it and wait for it to arrive in your mail, you can just download it and have it on your computer, ready to go in a matter of minutes. No need for procrastination or getting busy with something else, now you can get it done in a short time.
Because of the world we live in you can never be sure what tomorrow will bring. There are so many times when you need the information that can be recorded on a Household Inventory. We already mentioned a natural disaster and a break in, but there are also other time when you might need this information. For example, when an item breaks and you can't remember if it is still under warranty.
Another time you want to have a Household Inventory list when you are doing your taxes, especially if you are in business for yourself. Having this information at your fingertips will save you a lot of stress and frustration. Not to mention that the peace of mind you will have will be great.
Download: Household Inventory
X
Your free template will download in
5 seconds
.
Check out this offer while you wait!