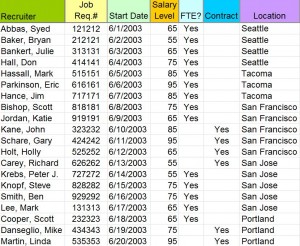 The job of Human Resources can get overwhelming at times. Keeping up with different employees information can become confusing. With Human Resources templates, information regarding employees can be stored and organized. This template can also assist by creating reports of the employee information or generating a summary of data. The Human Resources templates can be easily downloaded and printed. Make life as a Human Resources employee easier with the help of Human Resources Templates.
These Human Resources Templates can be downloaded and customized to fit your Human Resources department. Add columns or remove them from the template. Columns such as pay grade are optional, as some employers consider this to be confidential information. Years employed is a great column to add to the template for individuals wanting to make reports based on the amount of time each employee has been with the company?
How to Use the Human Resources Templates
Download the template from the site and open it as a Word Document
Customize the template according to the needs of the Human Resources department and also the policy of the company. Make sure not to include confidential information in the reports that will be shared with other employees.
Create or transfer existing data to the template.
Use the template to organize and summarize data or to create reports.
Tips for Using the Human Resources Templates
Keep this information private and away from unauthorized persons. Each day, employees may visit the Human Resources department to inquire about certain situations or to meet with the personnel. Due to this, it is your responsibility to make sure the information within the template is not visible to the eyes of others.
Double check or even triple check the data that has been entered into the template. Incorrect data can cause many problems within the Human Resources department. Wrong information can create false reports, leading to other departments or employees being improperly informed about certain information. For example, if the template is used to help with payroll. Incorrect information about an employees pay rate can lead to under or overcompensation on the employees check. This can cause disgruntled employees and also you can be blamed for the mix-up.
Update the data often. The information stored in the template is not set in stone. Information about employees change frequently and when it does their data within the system should be changed as well.
Download: Human Resources Templates
X
Your free template will download in
5 seconds
.
Check out this offer while you wait!