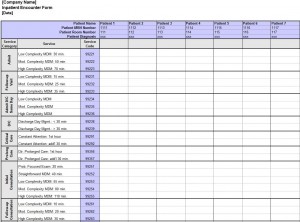 In any standard healthcare institution, patient or client flow and clinical records are time constrained activities requiring organizational skills to enhance productivity and patient experience.
Healthcare providers such as doctors, nurses and other professionals usually have limited time slots to effectively serve each patient or client and, at the same time, keep clear concise complete medical records for each encounter.
Writing and keeping clear medical records in a very short available time is necessary as evidence of services provided. This is particularly true for in-patient situations, where the patient is admitted into a healthcare facility such as hospitals, rehabilitation centers or nursing homes.
The Inpatient Form Template is an excellent downloadable efficient easily customizable tool that will help the healthcare professional organize and timely document medical records with all pertinent patient or client information, including services provided, written on a single page with short grid format that is easy to read at-a-glance and understand. The Inpatient Form Template saves time, allows focused recording, reduces errors and eases billing.
How to Use the Inpatient Form Template
The Inpatient Form Template is in an Excel grid format.
The first thing you see on the top left corner of the page is the:
Name of the form: Inpatient Form Template
Company name
Date
Next is the template Grid or table which contains the input fields for patient's information and services provided. The grid is divided into 12(twelve) rows (from side to side) and 13(thirteen) columns (from top to bottom). The top row of the Inpatient Form Template grid, is the patient's demographic area where you can record data for 10(ten) separate patients.
The first column of the first row comes with already defined demographic values that needs to be added on the right for each patient.
These stated values are:
Patients' name
Medical record number,MRN
Room number
Diagnosis
In the next row you will find specific services that the patient received:
Service category
Service name
Service code
Below the service category, you will see from top to bottom of the first column in the grid, labeled input values, specifically the following:
Admit
Follow-up Visit
Admit D/C Same Day
D/C
Critical care
Prolong Care
Initial Consultation
Follow-up Consultation
New or Established Patient
Observation
Each of these category values is followed to the right by time sensitive service input values for defined services provided. You will need to fill in or check the available spaces on the right corresponding to which services each corresponding stated patient above received.
Finally, the third column is the Service Code grid area specifying the label or number for each service provided. These standard codes are often used by providers and insurance companies for billing purposes.
Download: Inpatient Form Template
X
Your free template will download in
5 seconds
.
Check out this offer while you wait!