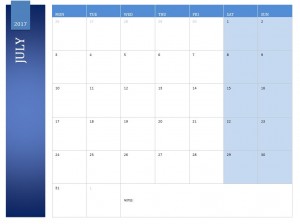 You can get your own free customizable Excel July 2017 calendar template by downloading the template from this very site! Keep track of the events, birthdays and appointments in your life with this wonderful, easy-to-use organizational tool.
Using the Excel July 2017 Calendar Template
This July 2017 calendar template is customizable to fit your needs. You can choose between a Monday-first and Sunday-first calendar. Dates can be highlighted in a color scheme of your own choosing. For example, weekend and holiday dates can be red, and weekday dates can be left black. The date boxes leave plenty of room to record events and appointments, and lines at the bottom allow for extra notes!
You can add custom notes for different dates by moving your mouse over a date and typing what you need to type. Then, you can print the calendar with neat notes already included!
The July 2017 calendar starts on a Saturday, ends on a Monday, and has 31 days. In July 2017, there will be five Saturdays, Sundays and Mondays, and four of each other day of the week. That means more weekends for fun summer outings.
This calendar can help you remember birthdays and anniversaries, keep tabs on savings and expenses, balance your social, family and professional lives, and keep track of appointments and goals. Use this tool to keep up with various events, deadlines and commitments, to chart progress on your goals and to plan possible vacations.
Special Dates on the Excel July 2017 Calendar Template
Independence Day will be on the first Tuesday of July 2017. You may want to plan to go to a cookout or a firework display the weekend before (July 1 and 2) or use a vacation day for Monday July 3 to get a four-day weekend!
Plan both your work and your summer fun with ease by downloading and printing the free calendar template today!
Download: Excel July 2017 Calendar Template
X
Your free template will download in
5 seconds
.
Check out this offer while you wait!