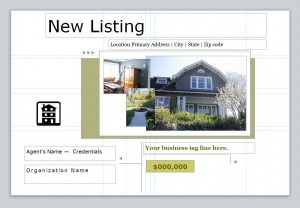 What better solution for a real estate agent than an easy-to-use Just Listed Postcards template for listings? This template is not only creative, innovative and eye catching, but it is also very straightforward and easy to navigate and to use, which is very instrumental in building a buzz around a listing.
Postcards are a great way to sell houses. They are small, tuck easily into attache cases or into the briefcase or leather folder, whatever you bring with you to sell houses. Just Listed Postcards are lightweight, can be shared at the office, posted on bulletin boards, or given out at open houses. They also can garner interest quietly by being placed around town–at coffee shops or at stores that allow for community listings or libraries, which often have such a corkboard for community purposes.
Using the Just Listed Postcards Template
Instrumentally, Just Listed Postcards make sense to the eye. The template allows the real estate lister to quickly and clearly create myriad real estate listings, on 4 X 6 web windows, with ample room for text, professionally listed alongside and to the side of the house or condo's picture. The template allows the real estate lister to include his or her contact information, credentials, name, etc. Just Listed Postcards also allows for the posting of the address for the listing and the price and therefore works well to transmit information in a concise and yet catchy way.
Postcards are a great way to sell houses. They are easy to carry, can be given out at showings, left on doors, or put on bulletin boards around town. They are an asset, itself as well–no pun intended–when pasted on websites; used online, they can be a great way to garner interest in real estate of all varieties from residential to commercial.
Just Listed Postcards, the template, is available for free on this page; the template also allows for the lister to custom design it to reflect taste and preferences aesthetically. Ease of use is noteworthy; it's just easy to use and easy to download as well, right here. Download the template today!
Download: Just Listed Postcards
X
Your free template will download in
5 seconds
.
Check out this offer while you wait!