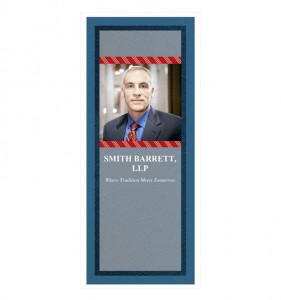 Law firms of every size can enhance their image and attract new clients by using a polished, professionally designed law firm brochure. Quality brochures establish credibility for a business because clients know that "real" law firms have printed sales literature and they can be taken home by potential clients and reviewed at leisure. They add a personal touch that let clients know what you can do for them and why they should choose your services over others. Microsoft offers a legal brochure template that is easy to use and produces a professionally designed 4-color brochure.
The Microsoft legal brochure template gives law firms the ability to easily customize tri fold brochures for marketing campaigns. For these brochures, a standard size sheet of paper, 8 ½ x 11, is folded twice to create three six panels on each side. Tri fold brochures are the most popular type of brochures for law firms because they can be mailed in a standard sized envelope.
Using the Legal Tri Fold Brochure Template
The Microsoft legal tri fold brochure template consists of six panels that are customizable. Two photographs can be uploaded with prompts allowing captions to be added. Each panel has writing prompts and guidelines for composing in that space including the business logo and contact information. The brochure should be formed around a central idea with important points listed for the reader. The legal brochure template is quick, easy-to-use and can be downloaded here for free.
Legal Brochure Template Tips
Design the introduction for an audience that has never heard of your law firm. This will introduce your business and the services you offer quickly to the reader.
Include client testimonies and quotes that personalize the law firm representation.
Provide useful and helpful information that prospective tenants may want to keep for future reference.
Identify the expertise, accomplishments and services that separate your law firm from others.
Provide a detailed biography describing experience and qualification.
Include a personal message that assures potential clients of a strong commitment to successfully handle their case.
Make sure the information in your brochure is complete, accurate, and thorough.
Legal brochures can be placed in offices whose clientele may be able to benefit from legal services. Brochures can be slipped easily into envelopes with a letter of introduction to client referrals. The legal brochure template is a fast and easy way to create an informative, professional first impression.
Download: Legal Brochure Template
X
Your free template will download in
5 seconds
.
Check out this offer while you wait!