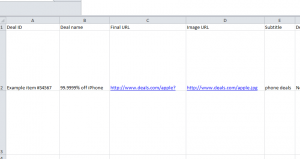 Now you can advertise deals for your business quickly, easily, and most importantly, to the right customers. Using dynamic remarketing, you can fill out all the relevant information for your product or service into this template and upload it to your AdWords campaign. This will target the perfect demographic of people that have visited your site before. Click the link below to start making your own personalized Local Deals Feed Template.
Local Deals Feed Template Guide
Start by creating a Deal ID in the first column. This will be a unique way to specify an item and its associated deal throughout your website to keep a neat and efficient system.
You can also choose to include a Deal Name in the next column. The Deal Name can be displayed in your local deals feed ad. In the example given, it lists the percentage taken off the item for sale.
Next, choose your Final URL. This will be the landing page that your customer is sent to when they click on your ad. You can choose to take them to your home page or to the page of the exact item displayed on the ad.
Another successful way to spice up your local deals feed ad is to include an image in the Image URL column. Just enter the appropriate URL associated with the image you want to use.
You can also add an attractive Subtitle in column E. This example document lists a short message that states the details of the ad and draws in the reader.
The Description column also lets you enter a brief summary of your deal, which can be displayed in the ad as well.
The price is going to be your main selling point for a deal. The Price column lets you display the price of your product/service in the local deals feed ad. This works well with the next column, Sale Price, which lets you enter in a new figure, crossing out the original to indicate a sale is taking place.
The Category column helps you separate and organize similar products into one main category for better results. You just need to enter a keyword that covers your similar products and keep that consistent throughout your campaign.
Next, the Contextual Keywords column will help you find the right clients for your local deals feed ad campaign. Be sure to include the popular keywords associated with your sale. In the example, these include Apple, iPhone, and savings.
If you want to include the address of your business, more specifically the store where the sale will take place, simply enter that in the Address column.
A good way for you to track relevant information about your ad is to create a Tracking template and then enter that information in column L. This way, you can choose the URL customers travel through before reaching your landing page.
Similarly, you can also use the Custom parameter column to create your own custom URL page that the customer travels through before hitting your landing page. You can use this information to gain important data about your click sources.
After your Local Deals Feed Template has been completely filled out, simply upload the document into your AdWords campaign.
Download: Local Deals Feed Template
X
Your free template will download in
5 seconds
.
Check out this offer while you wait!