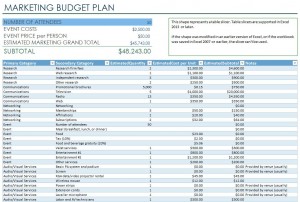 Marketing is a necessary function of business, whether that business is a large or small. This is because marketing, and especially marketing events, place the focus on the business and get it noticed by those who will hopefully turn in to clients or customers of the business. This is why proper planning of all marketing events is key and when one has a marketing event budget template on hand, they will be better able to plan and prepare for those events that are geared towards generating business.
The template is easily downloaded through this page and can be customized to meet any and all needs before being saved or printed. The best part is that this free marketing event budget template can save money when used properly.
How to Use the Marketing Event Budget Template
The best way to use the marketing budget template is to make sure that is ready to go before the first decision in regards to the event is made. This is key as the marketing budget template works best when it is used from the start and then updated all along the way so no cost or item is omitted. This is key to success as missing costs and expenses can make events more expensive than they need to be which is where such a budgeting tool comes in to play.
Tips for Using the Marketing Event Budget Template
The top tips that make using the marketing event budget template work best include:
Adding extra rows and columns for the things and items you know you will be buying or paying for in regards to the event.
Using those budgeted and actual cost columns to better manage costs.
Adding and updating the template list of items and costs on a routine basis so a quick glance can give you insight about budget issues that may be present.
Adding notes for items that could cost less elsewhere or perhaps be removed to save money.
The use of a marketing event budget template really can make event planning easier and also easier to manage in terms of funding. Events not monitored and managed properly can quickly spiral out of control and cost far more in the end when templates and tools are not used to help keep everything in order.
Download: Marketing Event Budget Template
X
Your free template will download in
5 seconds
.
Check out this offer while you wait!