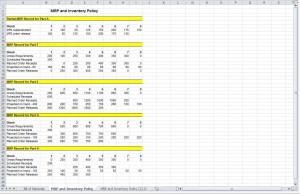 When it comes to mapping out future manufacturing and productivity priorities, creating a master production schedule can be an incredibly integral tracking tool.
Most commonly used within the manufacturing industry, a master production schedule (MPS) provides the necessary foundation for tracking, mapping and planning future producing. More often than not, these overarching "to-do" lists make it substantially easier for business owners to spot any major, problematic areas of production, as well as keep track of current – and potential – successes.
The list serves as a map for specific commodities to produce in a given time period, such as production, inventory and staffing.
Utilizing the Master Production Schedule for Your Manufacturing Success
The Master Production Schedule (MSP) from MyExcelTemplates.com features two key sheets:
A detailed, comprehensive bill of materials. This includes specific component descriptions, quantities, and levels.
MRP and Inventory Policy templates. Consists of specific tallies for order releases, gross requirements, scheduled receipts, planned order receipts, and various other bits of production information.
Users can track both the bill of materials and the MRP and inventory policies by category, as well as by specific week.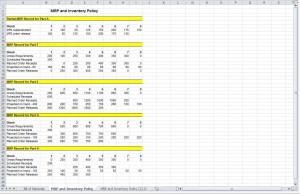 Tips for Organizing an Effective Master Production Schedule
Be sure to keep a keen sense of demand adjustment. Production forecasts can change on a whim, as well as specific order or supply details. The production schedule can be customized to your individual company's production needs, so feel free to adjust and maneuver specific descriptions. The most effective kind of product scheduling will come paired with a quick-responding, detail-oriented management style.
Be sure to include all the necessary info. The Master Production Schedule will consist of a number of organizational units, like BOMs, inventories, and allocations. Be sure you are familiar with this terminology before you start strategizing.
Clearing Up Any Confusing Production Terminology
BOM is an acronym for bill of materials, which consists of all raw materials, sub-components, parts and quantities.
MRP is a shortened term for a manufacturer's recommended price, or manufacturing resource planning.
Gross requirements are crucial aspects of production schedules, detailing specific demands for items prior to the deduction of inventory receipts.
X
Your free template will download in
5 seconds
.
Check out this offer while you wait!