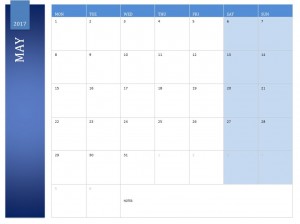 May 2017 will be here before you know it, and some people may have plans that must be scheduled well in advance. You can get a head start on your planning with the Excel May 2017 calendar template. Download and print the Excel May 2017 calendar template for free right here today!
Special Events & Days of Recognition on the May 2017 Calendar
According to May 2017 calendar, May 1st falls on a Monday. In addition, Tuesday May 9th is recognized as National Teachers Day. National Teachers Day is a special day when teachers are honored for the good work that they have done and continue to do.
Mothers Day will fall on Sunday May 14th in 2007. Mothers Day is a very special day when mothers around the world are recognized. Mothers play an important role in most of our lives. Mothers Day can be celebrated with flowers, brunch, dinner etc. Mothers Day gives families the opportunity to express their appreciation to their Mother.
The May 2017 calendar marks May 20th as Armed Forces Day. Armed Forces Day is a special day when all that have served in the military are recognized. Armed Forces Day is not a major holiday but more of a time of reflection and remembrance.
May 22nd, 2017 is Victoria Day. Victoria Day is a day in which Queen Victoria is remembered. This day is not usually celebrated in the United States, however it is celebrated in Canada.
Other Days of Note on the May 2017 Calendar
May 25th, 2017 is a very special day for Christians. This day celebrates the Ascension of Jesus Christ into the Heavens. This day is recognized by Catholics especially. Catholics usually celebrate this day with a series of Masses.
Memorial Day is celebrated each year. The May 2017 calendar shows that Memorial Day will be celebrated on the 29th. Memorial Day marks the start of summer and celebrations are held. Memorial Day is a major holiday and there is no mail delivery on this day. In addition, banks and other businesses are closed. The holiday is celebrated with cook-outs, parties and fireworks. Memorial Day is always celebrated the last Monday in May.
May 31st marks the last day of may for the year 2017. The last day of May 2017 will fall on a Wednesday.
Download: Excel May 2017 Calendar Template
X
Your free template will download in
5 seconds
.
Check out this offer while you wait!