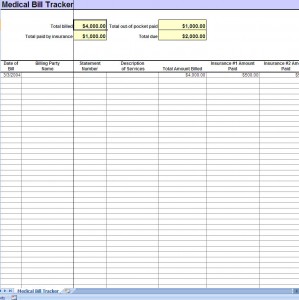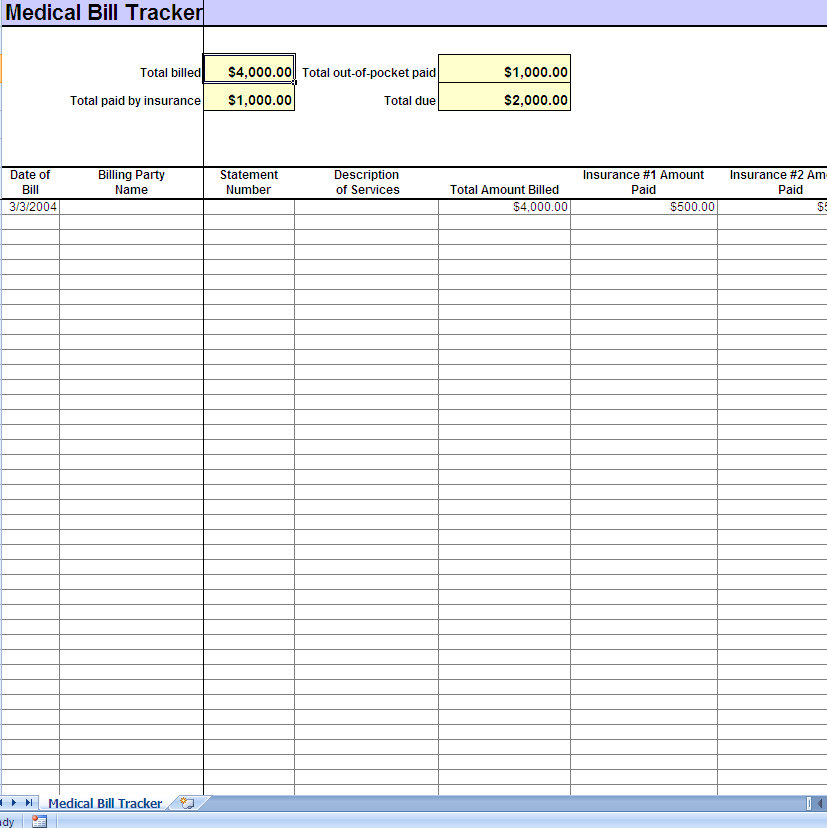 Modern medicine is so advanced. What used to be a trip to one doctor now involves many people each submitting separate billing. The result becomes a mound of bills. Use the free downloadable Medical Bill Tracker Excel Template to get a handle on the situation.
Why Use the Medical Bill Tracker Excel Template?
First and foremost, medical bills are expensive and can ruin your credit. Secondly, because there are so many involved from insurance companies to labs, therapists, doctors, hospitals and so forth, sometimes things get double billed. Lastly, it creates a money saving resource over time. The template provides an easy to use, customizable tool that makes quick sense out of a stack of bills.
How to Use the Medical Bill Tracker Excel Template
First, gather all bills.
Second, enter the data into the fields provided. The template is customizable allowing for multiple insurance company payouts to be tracked.
Third, use the column tabs to sort the data as you desire. Look for things like duplicate billing numbers, multiple parties submitting billing for the same thing and so on. Also, check for the lowest prices. For example, you may find one doctor is submitting blood work to a lab that charges you less than another doctor's lab. If so, call the doctor using the more expensive lab and see if another arrangement can be made.
Tips for Using the Medical Bill Tracker Excel Template
Back up all of your data electronically and on paper. In the event of a payment dispute, the Medical Bill Tracker Excel Template affords a fast, easy way to track the payment, though you will still have to provide the receipt.
Each time a new bill is entered, put the hard copy and proof of payment in a binder. Between the two, you will have all the data you need if you have to dispute any specific billing.
If using multiple care providers, print the provider names from the billing column. Keep it for medical situations requiring all providers be listed at once.
Because modern care involves so many people, medical records are dispersed among multiple offices giving no one an accurate reflection, but rather just pieces of a much larger picture. The Medical Bill Tracker Excel Template, found at MyExcelTemplates.com, when utilized over time, provides a complete picture for you, the most important person in the process.
Download: Medical Bill Tracker Template
X
Your free template will download in
5 seconds
.
Check out this offer while you wait!