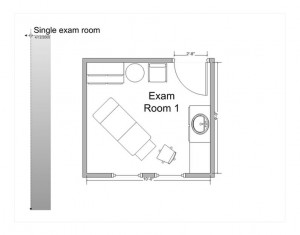 A medical office layout is a layout that administrators in the health field are able to use in order to create or rearrange a medical facility or even the exam rooms that are in the facility. When you are using the medical office layout to create a room or change a room, it is important to get opinions of others, to make sure that change is good. Once the approval is accepted there is a template that can be used to create the "new room" or "rearrange" the room.
This template allows an individual to see what the office or room is going to look like, before actually putting everything in place. Medical office layout is outstanding software and can come in handy when trying to create change. The medical office layout template is available for free on this page. This template is easy to customize, anything you would want, you can do. The design is completely in your hands, it doesn't get better than that!
Using the Medical Office Layout Template
The first step an individual needs to take when wanting to change a medical office room is to download the template. Once that is completed it is important to know what you want to place and where you want to place it, that way you are able to get measurements to make sure everything is accurate. The Medical Office Template allows you to place equipment and furniture until you are able to get it to fit exactly where you need it. Once you have felt as if the room is in the correct acceptable order, then you would want to print out that layout, so you can show it to other employees, and use it to your advantage.
There are tips that an individual can follow or should follow when using this template which includes:
Concentration. Make sure that everything is correct. Don't try and rush the procedure.
Be open about the new layout.
Ask for help if needed or just ask for opinions.
Make sure all measurements are accurate, fitting can be tricky.
Creating an office or exam room can be difficult; however the difficulty of this process decreases if an individual uses the Medical Office Layout Template.
Download: Medical Office Layout
X
Your free template will download in
5 seconds
.
Check out this offer while you wait!