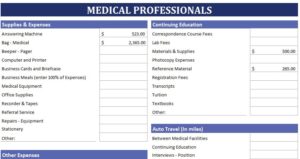 The free Medical Professionals Expense Calculator can help you assess the cost of building your own medical practice from the ground up. There are many unforeseen expenses with any business but especially with medicine.
This simple Excel document comes with plenty of examples to give you an idea of the cost. You can download the free template and start entering the items you see displayed with your own information.
You can also customize the sheet by adding your own ideas, changing existing topics, or deleting items as you see fit.
When you have all your items entered into this document, the template tallies them all up and shows you the final total at the bottom of the page. You can get started today by download the free template file below.
How to Use the Medical Professionals Expense Calculator
To download the Medical Professionals Expense Calculator, simply follow the link we have provided for you at the bottom of this page.
The point of this template is to show you how much it will cost to employ security workers for your business. You will receive a list of items like uniforms, guns, and so much more.
Depending on the needs of your business, you can see how expensive this endeavor can be.
Follow the general steps below:
1. Enter amount in the fields that are related to your expenses type
2. The total expense will be auto-calculated at the end
Start at the top of the page and work your way through the first set of items that you see. Enter your estimated totals in the columns to the right of the items.
You can feel free to skip the items that don't apply to you as well.
The template will take all your estimations for you start-up practice and show you a complete total at the very bottom of this page.
Your future as a private doctor is within your grasp when you use the free template today.
Download: Medical Professionals Expense Calculator
X
Your free template will download in
5 seconds
.
Check out this offer while you wait!