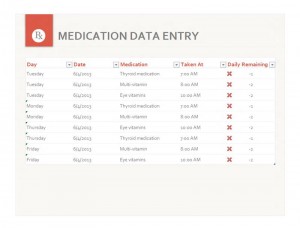 Keeping track of what medications to take can become a pain if you are like most people. Keeping up with multiple medications is one of the worst activities a doctor can ask you to do, especially if you do not have a way to keep track of the pills you have taken. Not keeping track of the medications that you take can be dangerous and potentially fatal. Many people die every year because they took too much or too little of their prescribed medications. If you have trouble keeping track of your medications print out the free Medication Schedule Template that is located on this page. The Medication Schedule Template is completely customizable, so you can list all of your specific medications. Also, this easy-to-use template can always be modified to meet your specific needs.
How to Use the Medication Schedule Template
First, make a list of all of your medications, the times you are prescribed to take them, and the days that you are required to take them.
Second, download the free Medication Schedule Template and use the blank spaces provided to fill in your information. The far left side should be dedicated to days, the next box should be designated for medications, and so on. Remember to save this template for future use or email it to yourself.
Third, print out the template and hang it someplace where you will see it, either on your fridge or bathroom mirror.
Tips for Using the Medication Schedule Template
First, get into a habit of checking your list everyday. That way, you will only have to remember one thing instead of remembering to take each individual pill.
Second, save a copy on your computer so that if you doctor or physician makes changes to your medication you will be able to go back and edit the template without having to enter all of your information again.
Third, be sure to keep an extra copy of your medication schedule in case your printer runs out of ink.
Print out the free Medication Schedule Template and enjoy life again without the hassle of worrying about your medication. Your mind does not have to be bogged down by trying to remember to take fifteen different pills each day. Simply remember to look at your checklist and start each day off right. Never worry if you have taken your medication again, and start to experience how good life can be.
Download: Medication Schedule Template
X
Your free template will download in
5 seconds
.
Check out this offer while you wait!