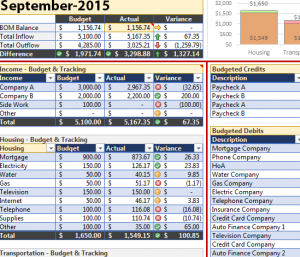 You have to be organized if you want your monthly finances under control. The best way to do this is by using the Monthly Budget Workbook to sort all your income information and your expenses and know exactly where your money is going. This way, you can shift things around to improve your financial situation. Everyone strives for financial freedom: this template just makes that goal easier by illustrating the main focus points and helps you organize the chaos of your monthly bills.
Monthly Budget Workbook Instructions
You will begin by entering your starting balance in the cell "I3" and the beginning month in "G1". To create new lines simply press the "tab" button on the last line of the table.
The various categories will be created, based off the budget, to the far left of the template. Also, the records you enter will automatically update to your available options in the "transaction" table in the middle of the template.
This template has provided you with a lot of examples for your expenses, but if you need to change any of them simply click on the cell containing the expense and start typing in your new information. All of the data you enter into the middle tables will be calculated and represented at the top in the form of a convenient graph. Now you can see how much each of your major expenses takes up of your income.
The final table to the far right of the screen will track the estimated increases and decreases of your various accounts for both your credit and debit.
When you are ready to move onto the next month simply click on the proceeding tab and begin the process anew, it's that simple!
How the Monthly Budget Workbook Helps You
Achieving financial freedom doesn't occur overnight. You need to take the time and effort to properly organize and manage your account information to get a grasp on your cash flow. The Budget Workbook just makes it easier. Everything you need to master you accounts and pay your bills in a timely manner is ready and waiting for you in this all-inclusive template!
Download: Monthly Budget Workbook
X
Your free template will download in
5 seconds
.
Check out this offer while you wait!