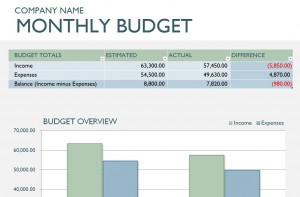 Whether it's for the home or office, maintaining a monthly budget is a critical to reducing stress and making sure every penny is accounted for. When it comes to running a business, keeping track of monthly expenses is an absolute must. Now, with the free monthly business budget template from Microsoft, you can monitor and tabulate all of your expenses while also saving a little bit of money.
The Microsoft monthly business template is just one of the hundreds of helpful items featured here at MyExcelTemplates.com that are designed to streamline your operation. Stay on top of your income and expenses with the Microsoft monthly business budget template. Download it for free today!
About the Microsoft Monthly Business Budget Template
The first step in using the Microsoft monthly business budget template is to add your company name as well as the month and year. Next, you will notice three sections where you will add up all of your financial figures. These sections include:
Income
Personnel Expenses
Operating Expenses
Each section has cells for your financial information. For example, under "Income", you will place things such as your net sales, interest income and asset sales. Under "Operating Expenses", you can add figures for things such as advertising, insurance, office supplies, utilities and much more.
After inputting your estimated and actual figures, the difference will then be automatically tabulated by the monthly business budget template and displayed in either black font to reflect a profit or red font to reflect a loss. All figures in each respective category will also be automatically calculated to display a monthly total.
Once all the financial figures have been added, a bar graph will display the difference between your estimated and actual income and expenses. This color-coded graph will give you a complete overview of the company's entire monthly budget.
In addition, your top five highest operating expenses will be displayed beneath the bar graph. You will have a clear picture of how much these items are costing you, what percentage of expenses they take up, and how much you can save by simply reducing them by 15%.
Download the Microsoft Monthly Business Budget Template Today!
Maintaining an accurate budget is one of the most important you can do to ensure the success of your company. Stay in control of your company's finances with the monthly business budget template. Download the Microsoft business budget template for free here at MyExcelTemplates.com today!
Download: Monthly Business Budget Template
X
Your free template will download in
5 seconds
.
Check out this offer while you wait!