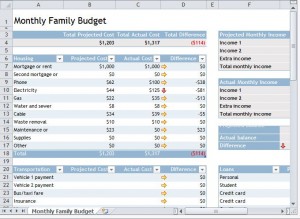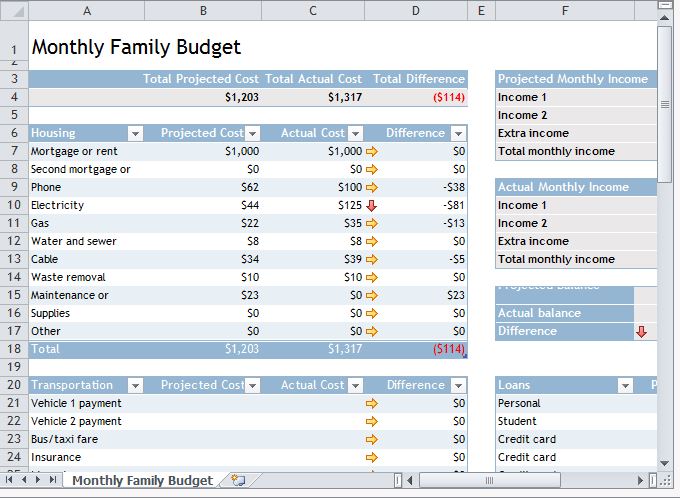 This excel version of the monthly family budget template is a great aid to help a family make a spending plan that fits their individual family. It also shows areas where spending may be a problem. Not only is the monthly family budget template a record keeping aid, it also serves as a family monthly budget worksheet. It shows every category of budget item imaginable, and is fully customizable to fit your individual family.
Download the FREE Monthly Family Budget Template from MyExcelTemplates.com and start getting your family on the right track to financial security.
Why Download the Family Monthly Budget Template?
The family monthly budget template is in Excel format, which is on almost all computers. This makes if fully customizable. It is possible to add and delete categories and change the figures to match your family budget. This template is extremely easy to use. You simply insert your figures and budget categories, using the template as a family monthly budget worksheet. It helps make sure you don't forget an important budget item.
To get the best use of this budgeting aid you will need to assemble your financial spending records. If this is your first attempt at budgeting in a while, you may have to go digging for receipts and rack your memory to account for what you have spent. Even if you can't account for everything, start the process and spend the next month recording every expenditure down to the penny. Only if you know what you spend can you reasonably plan for staying within a budget.
How to Use the Monthly Family Budget Template
Check all budget categories
Delete any categories you don't need
Add any categories that have been omitted
Go back and highlight amounts and type in your own
Check that everything balances
Adjust as needed to stay within your limits
The template keeps a running total so you can check how you are doing as you make your budget. All that is left is to follow the plan you made using the family monthly budget worksheet. Download the monthly family budget template now to begin living within your means.
Download the Monthly Family Budget Template from Microsoft Office: Monthly Family Budget Template