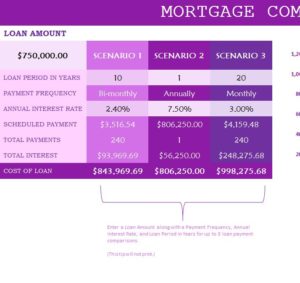 The Mortgage Comparison Sheet is a helpful new way to compare mortgage prices for your future home opportunities. The last thing you want is to buy a home, only to find out you can't make the payments, or worse, there was a house that had cheaper monthly payments. This template gives you a safe environment in which to enter the mortgage information of individual properties and compare the results in a risk-free manner. You can compare up to three different scenarios at once and the template completes all the calculations for you, download this free template by clicking the link below.
Using the Mortgage Comparison Sheet
Once you have the template downloaded and ready to go, simply enter the initial loan amount in the first cell of the template and start in the "Scenario 1" column.
You will enter the loan period in years, the payment frequency, and the annual interest rate. In return, the template will calculate the amount of your scheduled monthly or bi-monthly payments, the total number of payments you'll make over the years and the total amount of interest you will accrue.
When you need to compare multiple houses, you can fill out the exact same information in the next two columns of that first table. There will also be a helpful graph to the right that illustrates your loan amount and your interest over time and how that will increase.
The "Mortgage Schedule" tab is where you can see your payments for a full list and even select the scenario you want to see as well.
The last tab of the template, "Loan Calculator Data" is where you can change the intervals of payment for your mortgage calculator and see the results of having more or fewer payments over the year.
The Mortgage Comparison Sheet is simply a comprehensive way to organize the details of your mortgage in a way that's simple and easy to understand.
Download: Mortgage Comparison Calculator
X
Your free template will download in
5 seconds
.
Check out this offer while you wait!