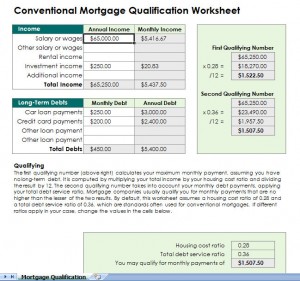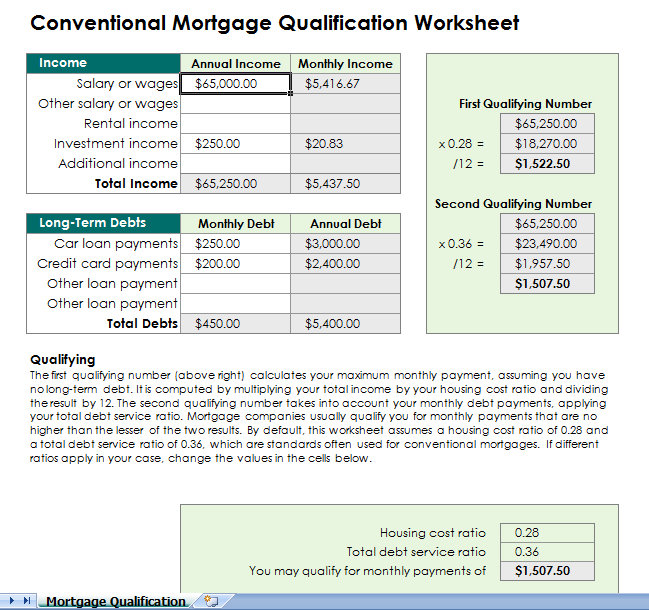 Before you begin your search for your future home, you will need to first find out what is your maximum mortgage amount. The Mortgage Qualification Calculator Spreadsheet is a tool that you can use to determine what mortgage amount you can qualify for and afford. It is completely free and is available for your immediate download.
You may customize the Mortgage Qualification Calculator Spreadsheet by entering in your individual monthly income and debts. You will then be able to see what price range you can afford to begin your search for your future home.
How to Use the Mortgage Qualification Calculator Spreadsheet
Open the spreadsheet in Excel and edit the data using your personal information. Under the Income portion, enter in all of your monthly income that will be used to pay your monthly debts. Under Long-Term Debts, enter in all of your current monthly debts.
The First Qualifying Number uses your monthly income to calculate your maximum monthly payment. The Second Qualifying Number is used to calculate your monthly debt amount. The ratios used are based on the current standard used by mortgage companies for conventional mortgages. Your lender may use a different ratio figure. If this is the case, just change the amounts in the matching cell blocks under the Qualifying Section to obtain your individual maximum monthly payment.
In the Loan Amount section, you will find the calculations for your maximum loan amount based on the lower qualifying payment. Estimate and include any factors that may apply such as taxes, insurance or homeowner association dues as well as the current interest rate and the number of years you plan on financing your home. Once you have completed the fields with your information, the Maximum loan amount will be calculated.
Tips for Using the Mortgage Qualification Calculator Spreadsheet
First, keep in mind that this calculator is only an estimate of your actual maximum loan amount and should only be used as a guide. Different factors can apply that will change the figures which include what type of loan requirements you meet and the lending policies of your mortgage company.
Second, when you are ready to move to the next step of purchasing a home, you should have your lender provide you with the precise information to use.
Home buying is a serious matter, so use the Mortgage Qualification Calculator Spreadsheet to help you start out on the right path.