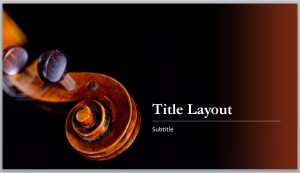 One of the most important parts of giving a good presentation is the actual look and feel of the presentation. You can have the best content in the world, but if the cohesiveness of the visual design is not that strong, it will not go over as well with your audience. The Music Score Template for PowerPoint offers a pre-designed set of backgrounds that mesh well with any type of music presentation. The set contains a violin in the background of the title slide, with treble clefs setting off a variety of other slides that include a blank slide, graphs, and other options. Downloadable for free from this page, the Music Score Template is easily customized.
How to Use the Music Score Template PowerPoint Presentation
Open the template and create copies of the slide formats that you would like to use. After you have completed all of the slides, arrange them in the order that you want them.
Add your content to the slides.
When you have finished, go through the presentation using the slideshow player. Determine whether you will be advancing the slides automatically or manually. If automatically, practice giving your presentation and try and sync your speech to the speed of the slides by varying the amount of time that they stay on the screen or the time interval between them.
Tips for Using the Music Score Template PowerPoint Presentation
You can customize the title page and add your company information and the date. If you would like to add your company logo to the title page, you might want to ensure that the image is transparent so that a lighter color doesn't bleed through onto the page.
If you are giving a presentation that contains an actual musical score, you might avoid the treble clef slide in that part of the presentation.
If you would like to use content that contains a brighter background, you can change the color of the background in the text area after you have added one
Download: Music Score Template