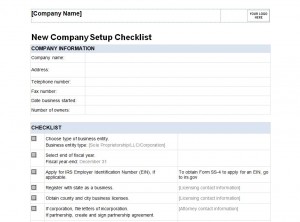 Starting a new business is the dream of many individuals. Your company name, logo, licensing requirements, tax information, contact information, and even your business structure are all decisions that should be made before the business opens up. Using the new business checklist will make it simple and easy to gather all of this information in one place and help to ensure your new business gets off to the best start possible.
How to Use the New Business Checklist
The new business checklist can be downloaded for free and can be adapted to meet any of your needs.
First, decide on a name, company logo, and contact information for your new business and enter them at the top of the checklist. They should be professional and descriptive of your business.
Next, in the middle column of the new business checklist is a list of information you may need or activities you may need to do. The right hand column is for recording the information or the result of an action. When each item is completed, check the box in the left hand column.
Decide whether your business will be a Sole Proprietorship, LLC, or Corporation. Each business type has advantages and responsibilities. Discuss any questions you have with a qualified attorney before making your final decision.
Determine when your fiscal year will end, for most businesses this coincides with their tax year.
If you are going to have employees, you will need to obtain an IRS Employer Identification Number
Find out what licenses and registrations are required with your state and locality and obtain them. Your local business council or county board will have this information.
File any corporation or partnership agreements as necessary. Sole Proprietorship's will not require any additional paperwork.
Obtain insurance plans to protect against loss of property or merchandise if necessary. Also obtain health and life insurance for employees if required.
Establish the financial practices, open a business account, obtain a business credit card and choose appropriate financial software.
If necessary establish a payroll and salary agreements and retirement plans for all partners.
Tips for Using the New Business Checklist
Use the checklist to track your progress on items that need to be completed before a business opens.
Use the completed checklist as a reference for important information, such as business associate contact information, or tax and payroll information.
Download: New Business Checklist
X
Your free template will download in
5 seconds
.
Check out this offer while you wait!