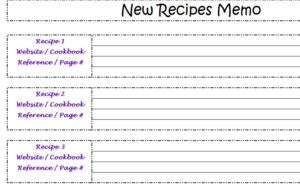 Seeing recipes you love online has become a major problem for many people. As silly as that sounds, you probably understand the pain of seeing an amazing recipe, only to forget where you found it just minutes later. Having a convenient place to store that information would help you actually make the delicious meals you find. The New Recipes Memo is a space where you can easily store the recipe, site URL, and other important information to take you from reading about these mouthwatering meals to actually cooking them for you to enjoy. Just download the free template below to start filling up your recipes for the week.
Using the New Recipes Memo
Downloading the template is simple. All you need to do is click the link at the bottom of this page to begin.
Once you have the document ready and opened, you can start entering your exciting new recipes. You'll want to store this in a convenient place on your computer, like your desktop for example. This will give you quick and convenient access to the Recipes Memo template.
Now, you can see each of your recipes has their own space. For your first recipe, let's say you found a guide to make Vegan Fettuccini Alfredo.
You'll start by copy and pasting the name of the dish to replace "Recipe 1" in the New Recipes Memo. The next step is to either "copy and paste" the recipe or the website to use, when you're actually ready to cook.
The last section is where you can list the reference website or page number of the source you found your recipe. You can also change these categories so they're more useful to you. For example, you could change the reference section to "ingredients." This way, you would just swoop in and out of the grocery store to get what you need.
Wonderful dishes each night are easy to do. You just need the right tools to help you organize your recipes and ingredients.
Download: New Recipes Memo
X
Your free template will download in
5 seconds
.
Check out this offer while you wait!