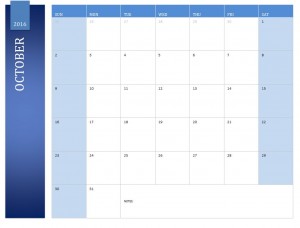 Are you looking to get organized for October? An October 2016 calendar is available for free right here on this page. There are a variety of major holidays and other days of recognition in October 2016. October 1st 2016 falls on a Saturday.
October 2016 Excel Calendar Template: Religious Holidays
October 2nd, 3rd and 4th is when the Jewish faith celebrates Rosh Hashana. This is considered a major Jewish holiday. The holiday is normally celebrated with a holiday feast. Many Jewish foods are served at the Rosh Hashana dinner.
According to the October 2016 calendar, Columbus Day falls on Monday October 9th. Columbus Day is a national holiday. Columbus Day is celebrated in recognition of Christopher Columbus. Columbus discovered America back in 1492. No mail delivery takes place on this day and most schools and businesses are closed.
The October 2016 calendar marks the 12th of October as Yom Kippur. Yom Kippur is a Jewish holiday celebrated by Jews around the world. Those of the Jewish faith must make atonement for their sin through fasting and prayer. Following fasting and prayer a large dinner is served with many favorite Jewish foods.
Other Days of Recognition on the October 2016 Calendar
Monday October 24th is recognized as United Nations Day. This is not considered a major holiday which means business as usual.
On October 28th, The Feast of Saint Jude is celebrated. Saint Jude is known in the Catholic faith to be a martyr and someone who will help those who find themselves in impossible situations. Normally feast days in the Catholic faith are celebrated with daily Mass.
One thing that remains the same on the October 2016 calendar is Halloween. Halloween is a day when children as well as adults dress up in various costumes. Children go from door to door in hopes of receiving candy. In addition, adult parties are held and often prizes are awarded for most outrageous as well as clever costumes.
Download: October 2016 Excel Calendar Template
X
Your free template will download in
5 seconds
.
Check out this offer while you wait!