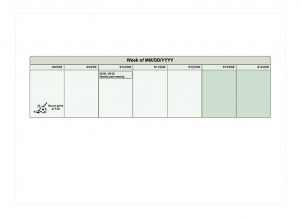 Anyone who wants to get organized will benefit from having a one week planner where they can organize their own personal appointments or keep track of family events that are coming up. Life can get so fast paced and your day so busy that it's easy to get behind on things or have events slip your mind. Which is why, out of all the different kinds of planners to go with, the one week planner is really the best and easiest one to use.
Since you don't have to worry about cramming a whole month's worth of days onto one page, the weekly planner gives you plenty of space to write out your daily schedule. And since you only have to focus on one week at a time, it's less of a stress and headache for you. Best of all, you can download a one week planner right to your computer and begin writing out your week today!
How to Download Your One Week Planner
The one week planner is very basic and you can be ready to start planning out your week in three easy steps!
The one week planner template is available on this page.
Explore this easy-to-use template and customize it to suite your style.
Once you are happy with it, you can click the 'download' button and save it to your computer.
From there, just open the file and print it off your computer. And there you have it! You are now ready to begin making your days more organized and worry-free!
Tips for Using Your One Week Planner
Keep your writing style in mind. If you tend to write bigger, make sure your one week planner is large enough to accommodate everything you will need to write on it.
Use a highlighter to fill in days that are complete. This will give you a sense of accomplishment at the end of each day.
Keep things simplistic. Don't try to keep one weekly planner for your job and another for home. It is too easy to overlook an event on one planner and you can end up overlapping events, which will lead to a lot of headaches. Keep one weekly planner.
As an alternative to a separate planner for work and home, consider using different colored pens to write down events – such as a blue pen for personal events and a red one for professional appointments.
Choose one day a week (weekends are probably the best) and give yourself adequate time to sit down and plan out the week ahead.
Armed with your planner and these quick tips, you are ready to being getting your days organized. As one final tip, stick your planner to your kitchen refrigerator so that it is easily visible and you won't run the risk of not checking it and forgetting an event.
X
Your free template will download in
5 seconds
.
Check out this offer while you wait!