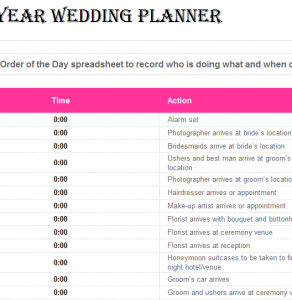 The perfect way to organize your wedding day, the One Year Wedding Planner is the here to help you plan the fine details of your wedding from a year away! Everything you need to include can be added to this easily customizable template and checked off as you go! You want everything to be planned well in advance, that's how dream weddings happen. The Wedding Planner is here to guide you to that dream! Just download the free file below to get started on planning your special day.
How to Use the One Year Wedding Planner
The format of the planner is as simple and painless as possible. By now, you should have a day and venue picked out. Now you can fill that day with all the fine details that will make your wedding one to remember!
The far left column contains a row for your exact times. Go through and enter the times you want an event occur to the right of that time.
The "Action" column is a list of items that will compose your ideal wedding schedule. The template has provided you with a wide variety of examples to get started, but you can always go through and change these items to things you want to include. Simply click on any of the cells and start typing in your unique wedding plan.
The next few rows are the contact information for your schedule. If you want to assign someone to a task or write down the number of your wedding photographer you can enter that information in the appropriate column.
Finally, there is a section to plan out events the day after your wedding. The examples in this section include, honeymoon transportation, post-wedding breakfast, and much more!
Why You Should Plan Your Wedding with the One Year Wedding Planner
You want to make sure your special day goes off without a hitch! The Wedding Planner includes everything needed to plan out all the finer details without a moments delay. This free template will help you take that vision of your dream wedding from your head into the real world. Enjoy your wedding without the added stress of remembering every last element; let the planner do the heavy lifting.
Download: One Year Wedding Planner
X
Your free template will download in
5 seconds
.
Check out this offer while you wait!