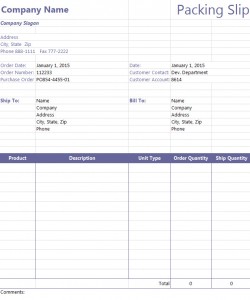 With the advent of new, easy to use and cheap ways to sell products online, a lot of companies exist solely as online stores. Some of these businesses just stuff a small receipt with a lack of purchase details into the shipping box when sending out an order. They seem to not realize that people want to be sure off all their order details and information. This easy to remedy situation can be handled with our free, top quality Packing Slip template to send out with customer orders.
Using the Excel Packing Slip template
Some companies usually don't have a lot of room for expenses, so why not get a few products for free when they're available? It's easy to meet customer expectations with the free Packing Slip template.
The packing slip was created in Excel so you'll have to open it with spreadsheet software. After opening, you'll view the simplicity of the template. We provide placeholder areas to encourage customization by each company using the packing slip.
Type the name of your company and a tagline or slogan at the very top of the template. Next, enter the company location information such as address, city, state, and zip code. Phone number and an optional fax number are the last items to be entered in this section.
The next section to be addressed includes the majority of order information. Order date, number and purchase order are the most important parts of this section that every customer will need from you. Shipping information will include all customer and billing information that needs to be presented to the customer in the slip.
Product information is the final area of the slip. Make sure to fill out product details, unit type, order, and ship quantity. Keep these product details as specific as possible.
Be sure to double check all shipping and product information before printing out the final version of your packing slip.
Download: Packing Slip Template
X
Your free template will download in
5 seconds
.
Check out this offer while you wait!