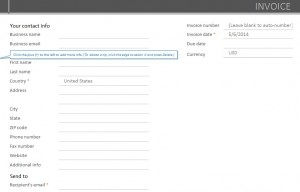 The PayPal invoice template from Microsoft is the perfect tool for anyone who uses PayPal on a regular or semi-regular basis. The template comes complete with everything you need to make a professional invoice without the normally associated cost. You can get your hands on the PayPal invoicing template for free right here on this page.
You can access the invoice template instantly by clicking on the link located on this page. The free PayPal invoice template from Microsoft is compliments of MyExcelTemplates.com!
About the Microsoft PayPal Invoice Template
The PayPal invoice template comes as a ready-to-use spreadsheet from Microsoft Excel. While it's designed to be used immediately after downloading, every element of the template can be changed or customized to better suit your business. There is ample space at the top of the document to add a personal touch, such as a company logo, slogan or mission statement.
The PayPal invoice template was created with you in mind, so feel free to explore the endless customization options!
Familiarizing yourself with the template is a breeze, too. The top of the spreadsheet is reserved for contact information and other standard invoicing elements. The body is where you will include the item name, description, quantity, unit price and total amount to be charged. The PayPal invoice template will calculate total costs, including taxes, discounts and shipping.
There is space to add special terms and conditions for the purchase, as well as a note to recipients and a special memo area that will only be seen by you.
If you ever run into trouble using the PayPal invoice template, simply click on the FAQs tab at the bottom of the template. This page will provide step-by-step instructions on how to make the most of your new template!
The Microsoft PayPal Invoice Template is Free!
Businesses both small and big are always on the hunt for helpful tools that can help them save time or money. You can achieve both with the PayPal invoice template from Microsoft. The PayPal invoice template downloads instantly at absolutely no charge here at MyExcelTemplates.com. There's never a limit to the amount of times the template can be downloaded and it can be shared at any time with your co-workers, friends or family.
Begin creating invoices that reflect your professionalism with the PayPal invoice template from Microsoft!
Download: PayPal Invoice Template
X
Your free template will download in
5 seconds
.
Check out this offer while you wait!