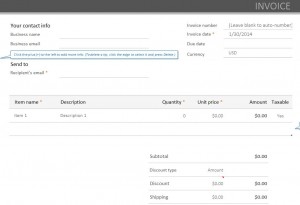 PayPal has revolutionized the way individuals and companies buy and sell goods and services. Since 1998, PayPal has been a leader in online payments and has helped countless people get their businesses off the ground. Creating invoices for your sales isn't the most enjoyable task but it's definitely one of the most important. And the bigger your company, the bigger your stack of paperwork. However, now you can make creating invoices an easy task with the PayPal invoicing template from Microsoft.
With the PayPal invoicing template, you can make professional invoices with a PayPal stamp directly on the document. The template is the perfect option for businesses both big and small, as it is available as free instant download on this page.
Begin creating professional invoices quickly and easily with the free PayPal invoicing template from Microsoft today.
How to Use the PayPal Invoicing Template
The PayPal invoicing template is a straightforward and easy-to-use Microsoft Excel spreadsheet. If you ever have any problems or if questions arise while using the template, simply click on the "FAQs" tab located at the bottom of the sheet. This page includes a list of helpful answers as well as explanations and screenshots. In the event you still can't find help with what you need, PayPal provides a contact email address for questions and concerns.
As for the template itself, it is designed with all you need to make a professional invoice sheet in a matter of minutes. All you need to do is input information in the respective slots and your invoice will be ready to go. The template even provides helpful tips as you reach different points of the sheet.
The PayPal invoice template is completely customizable and can be printed for paper records with just a few clicks.
Get the PayPal Invoicing Template Here Now!
Creating invoice may not be the most exciting thing you do all day, but it doesn't have to be the most excruciating event either. Simplify your operations with the PayPal invoicing template from Microsoft. Download the free PayPal invoicing template instantly and get to work on your invoices today!
Download: PayPal Invoicing Template
X
Your free template will download in
5 seconds
.
Check out this offer while you wait!