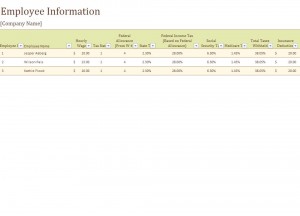 A payroll calculator template is a great tool to have for any type of business. It allows businesses to create paycheck stubs and figure out employee's paycheck amounts quickly.
How to Use a Payroll Calculator
The template is separated into three separate pages. The first page is for the employee's information. It will ask for the following information for every employee you have on your payroll:
The employee number. List of all the employees on payroll.
Employee Name
Hourly Wage
Tax Status
Federal Allowance from W-4
State Tax
Federal Income Tax
Social Security Tax
Medicare Tax
Total Taxes Withheld
Insurance Deduction
Other Regular Deductions
Total Regular Deductions excluding taxes
The second page is for the payroll calculator:
Employee ID
Employee Name
Regular Hours Worked
Vacation Hours
Sick Hours
Overtime Hours
Overtime Rate
Gross Pay
Taxes and Deductions
Other Deductions
Net Pay
The third page will figure all the math from the first two pages to make a paycheck stub for the employees. The paycheck stub will have all the required information that was used in order to figure the pay check amount.
Tips for Using a Payroll Calculator
The company can use the template to help them with creating paycheck stubs for their employees.
The payroll calculator can easily be updated for the employees needed. This way if the employee received a raise or bonus, it can be entered into the template for future use.
The company name and proper dates will need to be listed on the template when it is being used. This way the check stubs will show the dates they were finalized or created.
The chart can be changed to fit your company needs. Some states may vary from another and the accurate figures will need to be put in the chart for the state taxes that are suppose to be deducted.
Our payroll calculator template can be downloaded for free right off of this page. It is easy to use and can be customized to fit your needs for your company. Be sure to download your free template today.
Download: Payroll Calculator
X
Your free template will download in
5 seconds
.
Check out this offer while you wait!