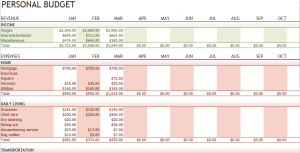 For those who are serious about budgeting for the New Year, a calendar or notebook just won't do. The Personal Budget Excel Template is a comprehensive month-by-month income and expense tracker to budget your finances throughout the year.
How to use the Personal Budget Excel Template
Using the link below, download the template and open it in Excel. The one page budget covers each month and a list of income sources and expenses. Begin at the "Revenue" column and enter in all of your income and their sources for the first month. The "Total" at the bottom will automatically add it up and fill it for you.
Move down to "Expenses" where there is a bit more to fill out. It's likely not all of the of the expenses listed will apply to you, so leave blank any expense cells that don't apply to you that month or ever. Again, the totals in each individual category will be calculated for you.
Once this has been filled out (for however many months you have finances available to log), go to the bottom of the spreadsheet. In blue, your complete expenses will be calculated for each month. Below that is the difference between your monthly income total and your expenses total. This will show if you are over or under (spending more than you have or less). Continue filling out the Excel sheet throughout the months and budgeting according to your final tallies at the bottom.
Tips on using the Personal Budget Excel Template
Track carefully your over/under results at the end of each month. Create a separate spreadsheet or document to divide what you want to do with any extra cash.
If you are consistently over-spending, look closely at your expenses and see where you can cut down. To follow-through, make sure you stop yourself from going over your assigned budget.
Print out the individual months to compare them and use them as references for the next month's budget.
Download the Personal Budget Excel Template
Template courtesy of Microsoft
X
Your free template will download in
5 seconds
.
Check out this offer while you wait!