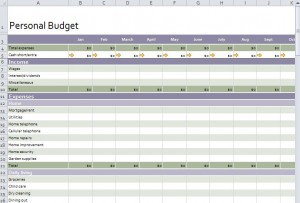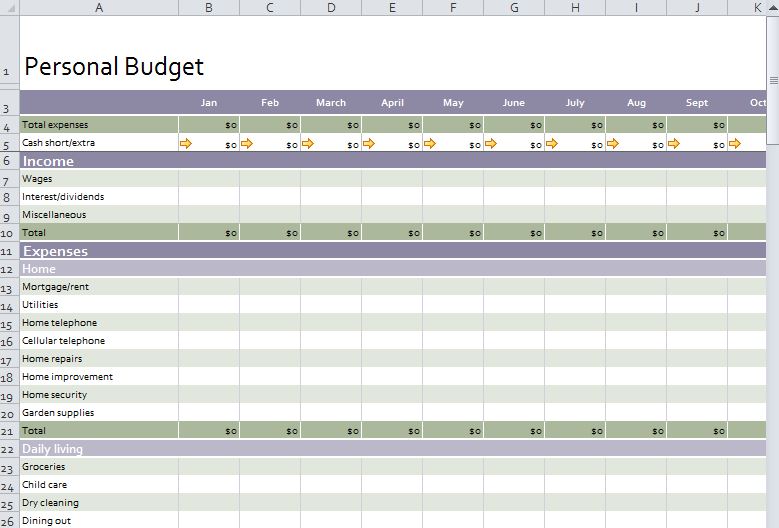 Today, a very large number of American citizens are living debt free. More than 1/3 of our population has discovered how to live within their means. These people are following a personal budget. This means managing their finances to stay within certain parameters. For those who are new to budgeting, try a personal budget template. Using an Excel personal budget template offers the guidelines needed to customize the budget using your actual expenses for each month.
How to Use the Personal Budget Template
This is an excellent way to get started keeping track of your expenditures. Not only can you track spending of fixed monthly expenses, but also those expenses that vary month to month. Users of the personal budget template can list money spent for each month and when expenses differ from one month to the other that variance can be tracked as well.
Being able to track expenditures accurately will allow the budget user to map a way out of debt. Following an Excel personal budget template can turn your financial life around. Start with this free personal budget template and begin to get control of your financial life.
When you finally understand the full cost of running your household, you can make conscious decisions about adjusting expenditures. End subscriptions or contracts that are unnecessary and too costly. Switch utility services to take advantage of reduced prices. Change insurance carriers to get better prices.
A budget will encourage the user to start a savings plan. By clearly seeing how your money is spent on a monthly basis, you can begin to see if there are areas in your budget where you can reduce expenses. Instead of spending this money on miscellaneous items, why not start saving a portion of your income on a weekly, bi-weekly or monthly basis? The budget will allow you to see where all your money is being spent and it will make it easier to track any extra money not previously committed to any purpose.
Upon finding that uncommitted money, you can begin to see how it could eventually amount to a healthy emergency fund. By beginning with this free personal budget template, you can start on the road to developing a healthy financial mindset and lifestyle. Instead of "robbing Peter to pay Paul", develop a better understanding of how to manage your personal finances. Use a personal budget to outline your expenditures and to learn how to spend within your limits.
Download the Microsoft Office Personal Budget Template: Personal Budget Template

X
Your free template will download in
5 seconds
.
Check out this offer while you wait!