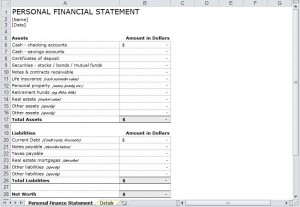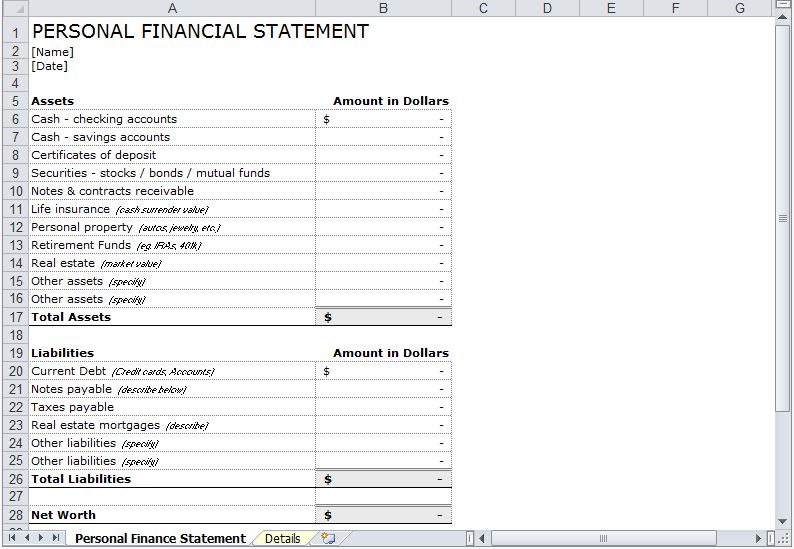 To keep track of their expenses, people should implement a personal financial statement into their lives. This allows them to keep track of their bank and credit accounts/statements so they do not get a surprise at the end of the month. Overall, financial statements provide a person with valuable information on their financial condition and they overwhelmingly help with month to month budget planning. There are various ways of using personal financial statement template free of charge that can help people. Plus they're easy to use and their customizable to Excel.
Using a Personal Financial Statement
A financial template usually has a section for assets, liabilities, total liabilities, and current net worth.
Some assets include:
Cash- checking and savings account
Retirement funds such as IRA's and 401K's
Personal property such as jewelry or automobiles
The market value of real estate holdings
Some Liabilities include:
Current debts such as credit cards
Taxes that need to be paid
In order to gain the most from an personal financial statement template excel spreadsheet (which can be found here: http://office.microsoft.com/en-us/templates/results.aspx?qu=Lists&av=zxl&ss=3#ai:TC001017522) , it is imperative that the person fills out these blanks accurately. Not only can this personal financial statement template be used for personal use, but it can also be used when applying for a loan.
A person's net worth is defined by the difference of what they own versus the debts that they owe. Using this template can help people pay of their debt faster since they will be tracking their spending and saving habits in this template.
Tips on Using the Personal Financial Statement Template
First and foremost, people should always try to put as up to date information about their financial status as possible. This is important because if they do not, the template will provide them with the wrong information.
People should also backup the personal financial statement template in multiple ways. If they ever lose it or their computer crashes, they can always have multiple copies so they don't have to make a new one.
It is in everybody's best interest to start using a personal financial statement. It will help them keep tracking of their spending and at the same time if they have debts, they can pay them off at a faster rate. Using a financial statement should be a regular habit in everybody's lives since it has so many positive aspects.
Download the Personal Financial Statement Template from Microsoft Office: Personal Financial Statement Template
X
Your free template will download in
5 seconds
.
Check out this offer while you wait!