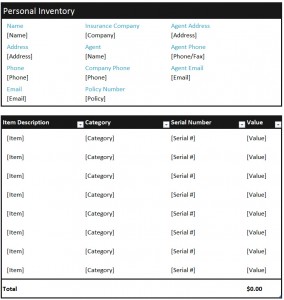 No one expects the worst, but the best thing someone can do is plan ahead for it. Floods, fires, tornadoes, and other natural disasters can take your home and belongings away in a heartbeat. Adding robberies and other accidents to this list of mishaps may make you realize that your personal possessions are important and should be documented to the fullest extent for insurance purposes. The most important part of this process is documenting everything that you own along with the price that you paid for these items. Keeping a Personal Inventory with this type of information is easy with the free Personal Inventory template for Excel.
Using the free Personal Inventory Template
If you're reading this, you're already ahead of the pack. You want to keep a record of your belongings, but need a tool to help you in this process. Do yourself a favor and download a free copy of the Personal Inventory spreadsheet at the bottom of this article. Open the file that you downloaded using Microsoft Excel or another kind of spreadsheet software and read the directions below to get started.
Once you have the inventory spreadsheet open, you'll realize how painless tracking your belongings can be. The first area is labeled "Personal Inventory" where you should enter information about you and your insurance company. Enter as many details as possible in case of emergency. Include insurance company details like address, phone number, and email for possible future necessity.
The second area is the Item Inventory area. There are four main fields which will help you sort out your personal belongings. Under "description," enter the name of the item. The next step is to categorize each item that you own. The most popular categories include electronics, art, and personal items. Record the serial number of the item, as well as how much you paid for it in the "Value" column.
After entering all your personal belongings into the Personal Inventory spreadsheet, make sure to save the file. Print out a hard copy as well for your personal records.
Download: Personal Inventory Template
X
Your free template will download in
5 seconds
.
Check out this offer while you wait!