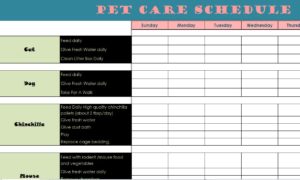 Taking care of animals can be difficult, especially if you do it for work or you just have a slew of pets at home. The Pet Care Schedule can help you care for these animals based on their individual needs. You can use this free template to plan out all the tasks you need to perform to ensure these animals are well fed, groomed to perfection, and have plenty of exercise. Not only can you care for separate animals using this spreadsheet, but you can even list as many species as you need. This is just the best tool for professional and amateur pet owners alike.
Using the Pet Care Schedule
In this Care Schedule, you can list all your animals in the first column. This document starts you off with some pretty common examples, cats, dogs, mice, hamsters, etc. You will need to change any of the examples on the list to your own animals only.
To change something, simply click it then type something new.
The next step is to list their actual needs and any care information. This section is definitely the most vital and you will need to do your research to make sure your pet is getting the right care.
If you have a dog, for example, the best thing to do would be to research their needs based on breed. Some dogs are self-regulating and some are not. With those that just eat what's in front of them, you need to make a feeding schedule. The self-regulating dogs, on the other hand, you can just leave plenty of food in their bowl for the day.
You will see how much simpler this template will make your life once you're all set up and able to just read this sheet and know exactly what needs to be done.
The last section of the Care Schedule allows you to enter these tasks within your own weekly schedule. Changing your cat's litter box, for example, is something you need to do once a week. You can just mark a day on this calendar so your cats a fresh box each week.
Make you and your pets much happier by using the Pet Care Schedule today.
Download:  Pet Care Schedule
X
Your free template will download in
5 seconds
.
Check out this offer while you wait!