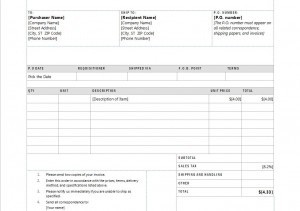 One of the most important aspects of running a business is controlling cost. Requiring a purchase order to be executed for business expenditures is an important part of a system of checks and balances. Many companies you do business with will require a Purchase order in order to extend credit to your business. This gives the company extending you credit written proof that it is authorized. Using this PO template to create a professional looking document will improve your image.
Some small businesses just use stock forms purchased at your local store. This type of form is obvious to other businesses and looks unprofessional. You also run the risk of fraud; someone could easily forge a document that is not customized. This PO template will provide an easy, cost effective way to create the document you need.
How to Use the PO Template Word Document
First, fill in customizable company data and save the file. Saving the file with your company data will make updates easier in the future. Be sure to include the company logo, address, phone numbers, and email. Make sure to add a tag line with your company slogan if you have one.
Second, set up the fields required for tracking. Fields will be needed, at a minimum, for requisitioned by, terms and shipping information.
Third, set up fields for process specific information. For example; where to send bills, how many copies and how long for delivery.
Tips for Using the PO Template Word Document
Remember this is an official document representing your company. Place your company logo on it.The more customized your purchase order is the harder it is to forge.
Use a numbering system that is checked by more than one person to prevent fraud. Consider requiring more than one signature for purchases over a certain amount.
Third, make sure your payment terms are clear. This will prevent any misunderstanding with your supplier.
Paperwork is a necessary evil in business. The better you are at it the more money you can make. Use this PO template to help save you time and money.
Download: PO Template
X
Your free template will download in
5 seconds
.
Check out this offer while you wait!