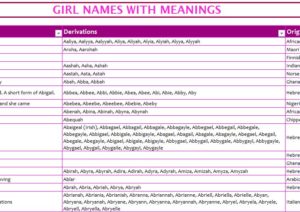 Having a new baby girl is one of the greatest moments in life. But now that you had the kid, what's next? They need a name that fits their vibrant personality. The free "Popular Girl Names Sheet" is a template document that compiles some of the most popular names in the world and gives you the definitions and their origins.
You can search names by nationality or by meaning. This template will give you more names than any book or article online. You don't want to saddle your new daughter with a name that's boring and bland because that's just not who they are. Find the right name for your baby daughter by downloading this free template today.
How to Download and Use the Popular Girl Names Sheet
You can download the free template simply by clicking the link at the bottom of this page.
The next step will be to simply check out the names given on the template sheet. The first column will give you all the unique names you could ever want for your baby girl.
Of course, every good name has a great meaning. For example, the name "Alicia" means truthful, great name for a daughter, right?
If you want to be even more original, you can also look up the various different forms of the name. If you want a more unique spelling, you can look from this selection and choose. Sticking with the example "Alicia", you could also use Aleacia, Aleaciah, or Aleasha.
Finally, if you're interested in the origin of the name or the nationality, you can look at the last column of the template and see for yourself. Alicia comes from the Greek word for truthful.
This template will help you find the perfect name for your new baby daughter!
Download: Girl Names With Meanings
X
Your free template will download in
5 seconds
.
Check out this offer while you wait!