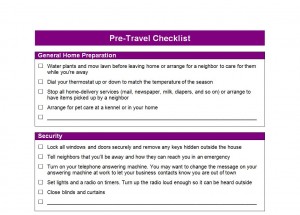 Whether for business or leisure, traveling often presents a multitude of items to consider before one begins their journey. In an effort to make a trip as smooth and effortless as possible, successful travelers typically use a checklist to ensure they have an enjoyable, worry-free journey ahead of them. A free, downloadable Pre Travel Checklist may be obtained here for use.
How to Use the Pre Travel Checklist
Simply download and save the free template available on this page
Customize and fill in according to the journey's needs
Put the checklist to use and enjoy the trip!
Tips for Successful Use of the Pre Travel Checklist
First, determine all necessary details of the upcoming trip. This may include length of stay, researching relevant and useful information about the destination (must see sites, culture and customs, potential weather). Knowing what's potentially useful along the way is a great start.
Based upon these predetermined items, begin to formulate a Pre Travel Checklist. Items to consider may include a home's needs while away, security measures to take (ex.: making a trusting neighbor aware), automobile needs if traveling by roadway, clothing and items to pack, potential identification needs, or arrangements for a place to stay. These are just the tip of the iceberg in starting a proper Pre Travel Checklist
Add, delete, and change the Pre Travel List and template, accordingly. The closer a traveler gets to the actual trip date, issues initially forgotten often arise. Even better, some may be resolved with taking proper precautions and planning. Altering the list as a traveler prepares is perfectly normal and one key benefit of having such a list: guaranteeing what's needed for an enjoyable, stress-free trip.
Use the list! While making a checklist is a great way to consider what's necessary, a list is only as good as what's on it and how it's successfully utilized. Travelers should be certain to check not only as they prepare, but also that final time before departure. Doing so and having a list entirely checked or crossed off gives the traveler what they were truly seeking: piece of mind!
So for any and all types of travelers heading for any destination, be certain to use this free, simple, customizable Pre Travel Checklist that can be downloaded right here in an effort to make that next trip a successful one!
Download: Pre Travel Checklist
X
Your free template will download in
5 seconds
.
Check out this offer while you wait!