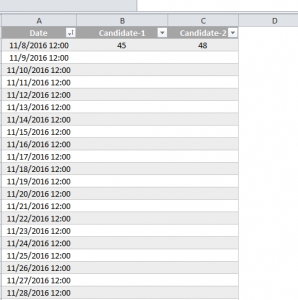 Track the top two presidential candidates as they go toe-to-toe through each state. The Presidential Candidate Polls Template has a simple design to help you easily write down the important information and receive great feedback in return. Using the polling data you collect through these candidates presidential campaigns, you will be able to analyze a party-member's likelihood of becoming the next president of the United States.
How to Use the Presidential Candidate Polls Template
You will start by clicking the link located at the bottom of this page. This will begin the downloading process to give you this free template file.
It's pretty easy to see how the template will work once you have it open. There are only three columns in which to enter information.
If you've been following along with the election then you can easily enter the dates for each state vote as you go. If not, simply look up a list and enter the information that is available.
After you have entered the date, click the "Candidate-1" column in the header. Now, enter the name of either the Democratic or Republican Party member running for office this tear.
In the "Candidate-2" column, you will do the same. However, you will enter the competing candidate of the person you entered in column B this time. When you have everything set up, you'll be ready to enter the important information.
After the date of each state vote, you will enter the number of electoral votes each candidate has won and continue this process throughout the election.
Using this template your will gain a firm understanding of how well a candidate is doing and be able to predict the next president.
Best Features of the Presidential Candidate Polls Template
All your information is available on one page
Simple structure allows for quick customization
You can reuse this document for every election from now on
Download: Presidential Candidate Polls Template