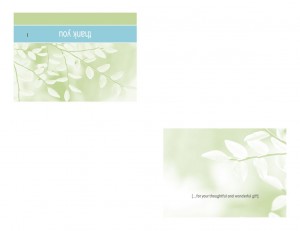 Printable thank you cards are the perfect way to let someone know they are appreciated. Whether it was for a gift, a business event, a special favor or a helping hand, saying thank you with a thoughtful note will ensure the gesture didn't go unnoticed. Using printable thank you cards are a convenient way to express gratitude since no special trips to the store are required. Since they are free, they also guarantee that showing appreciation won't be expensive.
Each printable card allows for customization which means the message included will be personal and unique and can reflect the specific reason for the note of thanks. With printable thank you cards, an unexpected present or act of service can receive a word of thanks in just a few simple steps.
How to Use Printable Thank You Cards
First, download the free, easy-to-use template from this page.
Second, save the template then begin customization. Personalize the card by including the person's name to whom it will be given, then write a unique message detailing the reason for the thank you. Include the name of the gift, the service delivered or the help offered and explain its special meaning. Add any touches that will further enhance the note's uniqueness. Save the template again once the card is complete.
Last, print the card and add any final details that may be desired. Consider placing it in a special addressed envelope then closing it with an ornate seal or decorative sticker before giving it to the intended recipient.
Reasons to Give Printable Thank You Cards
For a teacher on their birthday, teacher appreciation day, after a special class performance or presentation, or on the last day of school.
For a unique act of service or help.
After a wedding shower, bachelorette party, baby shower, graduation celebration, birthday party or other special event where gifts may be given.
To a friend who always lends their support.
After an interview.
For a retirement.
To attendees and participants of special business events.
To a guest speaker, host or emcee.
Anytime a word of thanks would show someone how much they are appreciated.
Printable thank you cards are always a convenient and thoughtful way to say thank you in a unique and personalized way. They offer the perfect final touch to any special event and ensure that the message of gratitude and appreciation will be remembered forever.
Download: Printable Thank You Cards
X
Your free template will download in
5 seconds
.
Check out this offer while you wait!