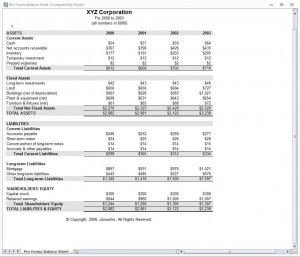 The financial organization of an up-and-coming start-up business is a series of checking, redirecting and maintenance. While most long-standing organizations tend have more more self-sustaining leeway, for start-up CEO's and entrepreneurs, ensuring their company is on the right path for financial success somewhat resembles the raising of an infant, taking quite a bit of nurturing and coddling.
One of the most common ways for business owners to complete overarching financial assessments of their companies is through a proforma balance assessment. A proforma balance sheet is a financial documents that contains the keys for a company's major assets, liabilities, and shareholder equity. While the sheet contains crucial building blocks for sustaining a profitable business, it's considered a future projection. A proforma balance sheet will aid in the future speculation and planning for an organization's profitability.
Projecting Profitability with the Proforma Balance Sheet
With the Proforma Balance Sheet from MyExcelTemplates.com, business owners and financial assessors can effectively:
Track their organization's current assets, fixed assets, liabilities, long-term liabilities and shareholder equity.
Compare and contrast proforma financial profiles over a series of four years.
House their young company's financial portfolio within a single, easy-to-use document.
Tips for Managing Your Proforma Balance Sheet
Study your company's proforma balance sheet carefully. A proforma invoice is a direct reflection of your company's financial health, both present and future. Try to keep track of every small detail.
Label your statements correctly. Although this tip might seem somewhat obvious, you'd be surprised how often it gets overlooked. Be sure all your assets, fixed assets, liabilities, long-term liabilities and shareholder equities are listed accordingly.
Adjust the balance of your liabilities. Will your company be forking over the cash for a large expense this year? Figure out the ways you can potentially reduce your debt-load and miscellaneous expenditures within the next year.
Assess and assume. On top of any sizable purchase your company might be making this year, are there any financial aspects that might be increasing – or decreasing – within the next year? For example, if you intend to take on a new branch of business (requiring a steady flow of new equipment), be sure to take that value into account.
Keep track of history. The only way to learn from past mistakes is to assess them from an honest, visible perspective. The better you keep track of your proforma balance sheet, the more success you'll have in planning a profitable future.
X
Your free template will download in
5 seconds
.
Check out this offer while you wait!