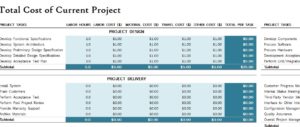 Having the right financial plan for your project can mean the difference between success and utter failure. You don't want to find out half-way through your project that there's no way you can finish it or that the projected revenue isn't quite what your expected. The Project Financial Plan is a fast and free way to plan the cost of labor, material, travel, and every other expense associated with a project, before you ever spend a dime. Instead of gambling on the success of your project, you can have all the figures conveniently in front of you on one page.
Using the Project Financial Plan
Before you do anything else, start by downloading the template file by clicking the link below.
Once you have the document open, begin entering the project task to the far right of the "Total Costs" document. In this first column, you'll see a few examples of tasks that are commonly associated with work projects. To change any of these examples, simply click the cell you want to change and type something new.
In the top row of the document, you will also notice common costs associated with a project as well (labor, material, travel, etc.). You can change any of these using the same above method.
There are also multiple tables to help break your project apart into simpler tasks. The examples given are design, delivery, other, and management. If any item falls into one of these categories or the ones you create then you can easily fill out the item in the corresponding table.
When you enter a few items, you'll see that the template automatically calculates the totals for you at the bottom of each table for that category. You can also see a total for every category in the bottom right-hand corner of the page.
The next three tabs of the document illustrate the cost of each category using graphs and simple figures to help you organize your project even further. The Project Financial Plan is the perfect tool for any business owner to accomplish any task they set out to do. Download this free template today.
Download: ME-Project-Financial-Plan
X
Your free template will download in
5 seconds
.
Check out this offer while you wait!