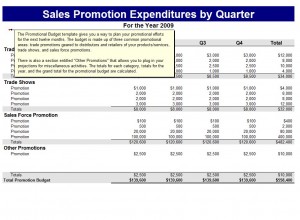 The Promotional Budget Template is a great way for companies to plan for their promotional efforts on their products or services. The template works well for companies wanting to know their expenses for the entire year. The template is absolutely easy to use for any type of company, big or small.
How to Use a Promotional Budget Template
The Promotional Budget Template is broken up into six columns.
The first column states the types of promotional efforts that were made. Those efforts would be: Trade Promotion to Distributors, Trade Shows, Sales Force Promotion, and Other Promotions.
The second column through the fifth column is listed for each quarter of the year. This is quarter one, two, three, and four.
The sixth column is the Totals column. This provides the total amount for each section for the entire year.
The bottom of the template if for the Total Promotional Budget. This provides a total for all promotional effort types for each quarter separately and for the total year.
Tips for Using a Promotional Budget Template
The template can be used either by quarter, by month, or by year. This would depend on the type of information the company is looking for in order to see different comparisons for their promotional efforts.
There is a section that will provide totals for each of the separate promotional types. This will help individuals see where they stand individually in each area and as a whole together. This option can be changed upon the business.
The template is 100-percent customizable to fit the needs of the user.
If you are ready to start keeping track of your promotional efforts, the Promotional Budget Template is the right template for you. You can use this template in any way needed to see how much money is being used for promotions. This will help you know the time of the year that you may have more money available in your budget to push out more promotions than normal. The template can be downloaded right off of this page for free!
Download: Promotional Budget Template
X
Your free template will download in
5 seconds
.
Check out this offer while you wait!