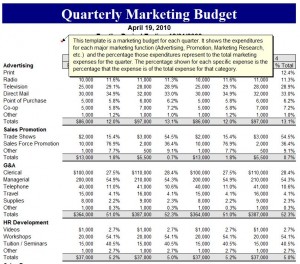 Every company wants to keep costs under control. To do this, a budget is allocated to each department for expenses. The marketing department is one the most important, because advertising brings in new customers. However, advertising is expensive and it is easy to get out of hand with the costs. The answer is Quarterly Marketing Budget spreadsheet. This will keep track of all the expenses and compare it to the budget. Every CFO wants a profit and loss statement, and this document is a great way to keep expenses in line. By using a Quarterly Marketing Budget customizable template Excel document, it helps a department stay on budget.
The fact that this document allows for customization is impressive. Not every company will have the same expenses, and this is not another cookie cutter form. The Microsoft Excel template allows companies quick and easy way to create documents needed for financial accountability. It's easy to use and can be done from any computer.
How to Use the Quarterly Marketing Budget Template
First, adjust the date and the period of reporting and then save the file. A company logo or other pertinent information can be added if this will go to someone who accounts for several companies.
Second, set up the sub account sections, there are six listed, but more or less can be added. This is where customizing the sheet comes into play. Set up the specific accounts that are pertinent to the business.
Third, set up the periods and make sure all the formulas are still intact. Having formulas in this sheet will ensure that everything adds up correctly.
Tips for Using the Quarterly Marketing Budget Template
First, this form is not meant to go outside the company, it is not a professional profit and loss statement. It is designed to be for a specific department and their budgetary needs.
Second, ensure the data generated is usable. Don't just track numbers for the sake of tracking them; make sure it is data that will help to improve.
Third, the marketing form will need to be backed up. It is also good to keep a paper copy on hand too.
Most companies have a strict budget they must use. The Quarterly Marketing Budget template makes budgeting a fast and painless process.
Download: Quarterly Marketing Budget Template
X
Your free template will download in
5 seconds
.
Check out this offer while you wait!