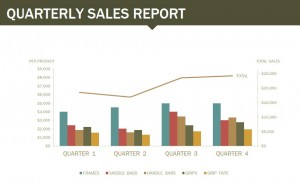 A quarterly sales report is much more than a simple report containing several categories of numbers. A quarterly sales report reflects a great deal of information about a corporation. It is something that can be used effectively for companies of all sizes, even those that are operating out of the home. Such a report is essential in order to adequately determine how well the company is doing, as well as where improvements can be made. In fact, it would be virtually impossible to adequately determine the health of the company without such a report. Finding one that is easy to use is essential because no one has a great deal of time to write one out by hand or make one of their own on the computer. Instead, it is much easier to download one and go from there.
Downloading the Quarterly Sales Report Template
You can download one directly from the website. The report is designed to be easy to use and it is equally easy to download. All that is required is that you take a few moments to download it and then you can use it as you wish. The report is free to download, so you do not have to worry about paying for getting a report that will work well for your needs. In addition, it is customizable. This gives you the opportunity to create a report that works exactly for your needs without having to develop one yourself. It saves you a great deal of time and frustration.
Tips for Using the Quarterly Sales Report Template
As far as the download itself is concerned, the only thing that you have to do is download it and then start using it. If you need to customize a certain field, you simply put the information that you need into that field and then save it. As far as using it to track the expenses of your company, it is important to customize it in order to fit your expenses and your needs so that you can adequately reflect how much money is coming in and how much is being spent. It can also be designed specifically to allow you to compare figures from the previous quarter so that you know where you stand in relation to where you have already been.
Downloading a quarterly sales report is essential if you want to know exactly how well your company is doing. It is probably one of the most important things that you could ever do, and it only takes a few moments. The fact that it is free and easy to use makes it even more valuable. In short, there is no reason not to make full use of the availability of this type of report in order to increase your level of profit for your business.
Download: Quarterly Sales Report
X
Your free template will download in
5 seconds
.
Check out this offer while you wait!