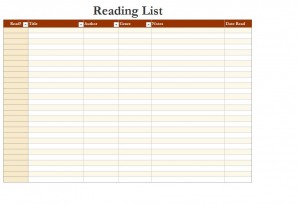 If you are an avid reader of books, you will want to download the reading list template.
The template is an excellent way to keep up with books you have read and books you would like to read. The template is absolutely free to download and use in Excel. You can modify the template and tailor it to add more or fewer columns with different headings.
Filling Out the Reading List Template
The idea behind the Reading List Template is to provide a reader an easy way to keep a record of the books that you either hear about or read reviews on. We so often forget a recommendation we are given on a book. With the Reading List template saved to your desktop in Excel, you can quickly add a book to the list when you hear about it.
The format of the reading template is simple and easy to use. You could teach your school age child to use this template for keeping a record of reading assignments. This would also be an excellent tool for high school and college students.
The columns are straight forward to use, with headings for the name of the book, the author, the type of book, any notes you want to add and the date you read it. If you want to add more columns with headers, such as the person who loaned the book to you, then it is easy to add a column in Excel.
You could tailor your list to include articles you have read in magazines that you may want to use in reference one day. Alternatively you could have more than one Excel sheet, using one for books and another for magazines. You could even add another sheet for websites with interesting articles.
The template is especially helpful if you are reading book reviews in a magazine and you don't have much time to read. You can add the titles and authors to your list and go back to this when you have more time to read, especially if you have a vacation coming up, you could purchase books for the trip or download an e-book to your Kindle.
For people who love to read, the template is a great tool to keep a record of books to be read and those you have already enjoyed. If you can't remember the name of the book to share with a friend, there it is on your desktop in your Excel reading list!
Download: Reading List Template
X
Your free template will download in
5 seconds
.
Check out this offer while you wait!