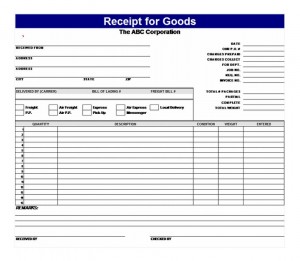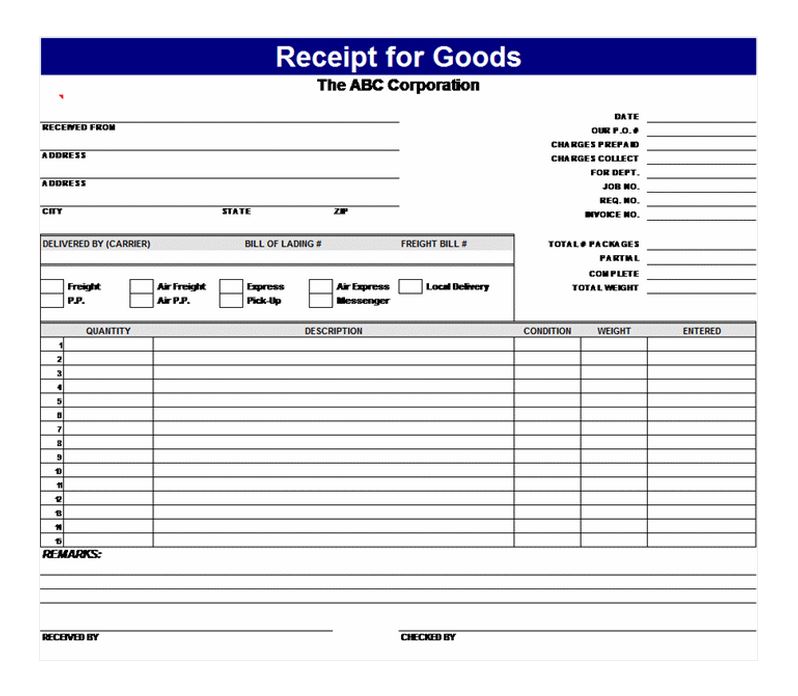 Do you run a business where you receive inventory on a regular basis? If you do it is a good business practice to take inventory of the product you are carrying. One way for businesses to take inventory is to use the Receipt for Goods Template that is available for download on this page. Not only is it free but it is easily customizable to fit your business needs. All you need to do is click the download button and open it up in Microsoft Excel (either Windows or Mac) 2007 or later.
Using the Receipt for Goods Template
When you open the Receipt for Goods it will come populated with the following fields regarding the product.
The Name of Your Corporation (which can be updated and even add a logo)
Received From
The Delivery Person or Business and Their Address
It Will Describe the Manner in Which the good Arrived (Freight, Air Freight, Air Express, Local Delivery, P.P., Air P.P., Picked Up, Messenger, Etc)
Then it Will Break it Down Listing (the Quantity, Item Description, Condition, Weight, Entered)
The Next to the Last Area Will List Any Additional Remarks that are important in the Receipt of Goods)
Received By
Checked By
Of course on the individual Receipt for Goods you will have the individual Form information unique only to this form. What is included on this part of the Receipt for Goods form is:
Date
Our P.O. #
Charges Prepaid
Charges Collect
For Department
Job Number
Req. Number
Invoice Number
Total Number of Packages
Partial
Complete
Total Weight
As you can see the Receipt for Goods form comes fully functional and ready for use immediately after downloading. The great thing is that you can customize it to fit the needs of your products that you receive and keep healthy records to make sure bookkeeping records are in order, where you can reorder the product, whom you can contact with any problems with the order, and payment and delivery options. On top of all of that it helps keep good track of the amount of inventory you should have in stock.
Download the Receipt for Goods, customize it to best fit your business needs and see how it can save you any issues over the long run.
Download: Receipt for Goods
X
Your free template will download in
5 seconds
.
Check out this offer while you wait!