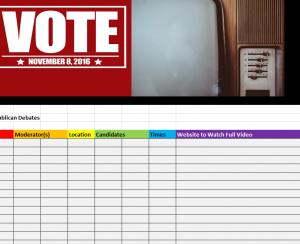 If you like to stay current on all the latest Republican political viewpoints, there's no better place than the Republican primary debates. After downloading the template you will see how easy it is to customize to fit around your schedule. You can even list sites to stream the debates if you can't catch them on TV. The Republican Primary Debate Schedule was designed to help you organize all the details of a debate and casually list them on one page.
Republican Primary Debate Schedule Guide
The first step is to download the free Republican Primary Debate Schedule template to your computer by clicking the link located at the bottom of your screen.
The categories in the header row are color-coordinated for easier navigation. Simply read the category and enter the corresponding information.
First, go online to find the starting dates of all the Republican Party debates. They should be listed with one or more of the categories. When you find the start date of the debate, simply write that information under the "Date" column.
On the same site, you should be able to find the location of the debate as well. This is helpful in case it's hosted in your state and you want to go to the debate to see it live.
The page should also list the candidates that will be participating in the debate. Sometimes, especially early on in the primaries, there might be too many candidates to fit into one time-slot. In this case, they are usually broken up into separate debate times.
This is where the "Times" column comes in handy. You can enter the times next of a candidate's name to ensure you get to see your favorite candidate speak.
One of the best features of this Republican Primary template is saved for the final column. Most likely, you won't be able to catch the debates because of work or other engagement.
The "Website to Watch Full Video" column is great for listing websites that host the full debate video and listing the URL so you don't have to search for them later. This can be time-consuming and even frustrating at times. That's why the purple column makes your life so much easier.
Now you can stay well-informed during the course of the election year.
Download: Republican Primary Debate Schedule
X
Your free template will download in
5 seconds
.
Check out this offer while you wait!