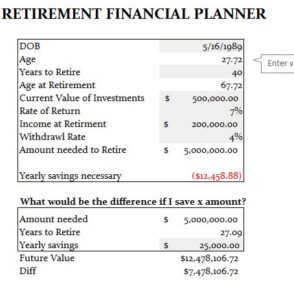 Retiring is one of the biggest fears in America right now. It sounds weird but the future doesn't seem too bright for people relying on social security in the near future. That's why it's so important for people to start saving for their retirement plan as soon as possible. You can use the free Retirement Financial Planner to start planning for a brighter future.
This excel calculates the years remaining to retire based on what you make now, how much investments you have, the rate of return, expected income at retirement. Based on these values, it will tell you how much you need to save yearly to live comfortably after you retire.
Get started today by following the free set of instructions below.
Retirement Financial Planner
You can download the free template by clicking the link at the bottom of this page.
You'll start by entering your date of birth and the years you plan on retiring from now. The example lists 40 years from now.
Next, enter your current value of investments and the percentage rate of return you have on them. You will also need to list your retirement income and the withdrawal rate.
The template will take all that information and show you how much money you need to retire with. Below, you can also see how much you need to save annually in order to meet your retirement goals.
You can also use the last table to calculate the amount you need based on the age you want to retire. If you want to retire by age 60, you would enter that into the first line of the last table. The template will display the information you need below.
Now the future is out in the open. You don't have to guess about your financial security anymore, download the free template today to get started.
Download: Retirement Financial Planner
X
Your free template will download in
5 seconds
.
Check out this offer while you wait!